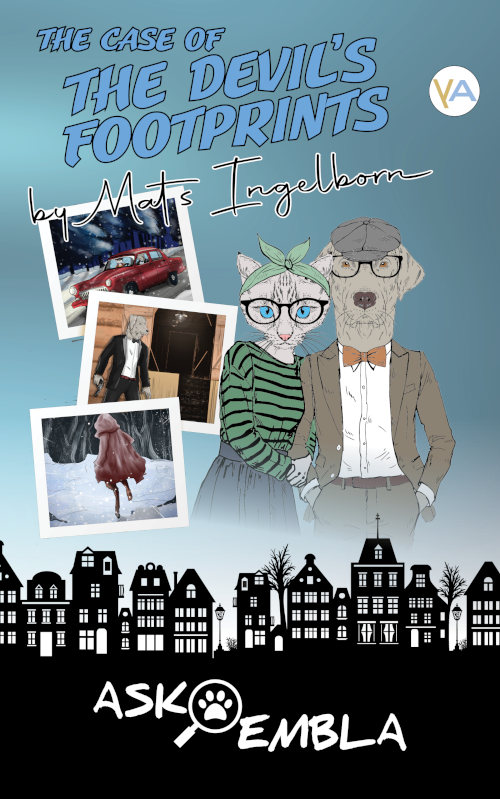 The Case of the Devil's Footprints, Ask & Embla
Get ready to join the dynamic duo of private detective Embla and Police Chief Ask as they take on a new chilling mystery! When an old couple on a farm far north of Fableburg discovers horrific footprints in the snow, they call upon the village priest for help. But when Embla catches wind of the eerie occurrence, she can't resist the chance to investigate. Is it really the devil's work, or is someone playing a cruel joke on the couple?
With short, engaging chapters and captivating illustrations, this thrilling detective story are perfect for readers aged 9-12. But beware, this mystery may just be too spooky for the faint of heart. Join Embla and Ask as they race against the clock to uncover the truth in this riveting page-turner that will leave you on the edge of your seat until the very end!
"It has a cool layout, a very nice cover, and pictures inside. It is a fairly short book with short chapters, which makes it easy to read. It is recommended for the ages of 9-12, but I would probably say it can be a little scary for the youngest. As an adult, I had the retention of reading it myself. Nor will it ever be long-winded or tough during the story. The excitement is on top most all the time!"

@laslusenilinsen
"… an exciting book with Ask and Embla. I like Embla's determination and leadership. It gets almost uncomfortably exciting, and the end gets really riveting. The book is for 9-12, but it is also suitable for me."

@carinas_lasdagbok
RRP: $ 3.90 (e-book), €7.90 kr (print)
---
Author: Mats Ingelborn
Illustrator: Afra Amin Orony
Number of pages: 66
Format (w x h): 125 x 204 mm
ISBN (print): 978-91-89225-88-6
ISBN (e-book): 978-91-89225-89-3
Published: 2023-03-31