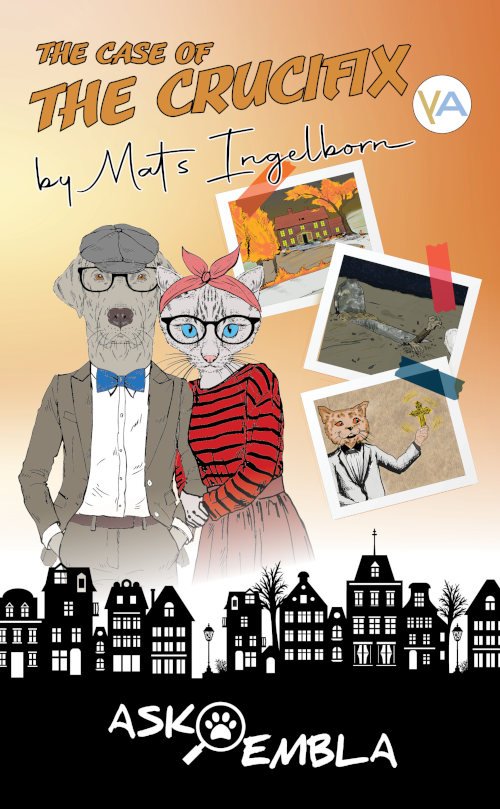 The Case of the Crucifix, Ask & Embla
Private detective Embla and her husband, police chief Ask, are back in action in the town of Fableburg and its surroundings, taking on problems, crimes, and mysteries.
When Embla's old schoolmate, Victor the vicar, visits her and Ask at the police station, he reveals that his daughter has been catnapped. The villain demands a valuable golden crucifix as ransom. As Embla and Ask investigate the case, they soon discover that an infamous villain is behind the crime. But when Embla is herself imprisoned in a burial chamber, it takes extraordinary efforts from both detectives to catch the villains.
This illustrated detective mystery story is full of suspense, clever wordplay, and unique characters that will keep young readers engaged until the very end. With rave reviews from both readers and critics, this is a must-read for children and tweens who love thrilling and exciting stories.
"Embla is a really sharp detective, making it almost too exciting for the others in the Case of the Crucifix. An exciting detective story with a clever play on words, made-up figures and nice illustrations. A book I highly recommend,"

@carinas_lasdagbok
"An excellent and thrilling book. Children and tweens need more books of this kind. The story is good and exciting for the age group."

Pia Widlunds blogg
RRP: € 3.90 (e-book), € 7.90 (print)
---
Author: Mats Ingelborn
Illustrator: Afra Amin Orony
Number of pages: 72
Format (b x h): 125 x 205 mm
ISBN (print): 978-91-89225-86-2
ISBN (e-book): 978-91-89225-87-9
First published: 2023-03-07